Flipped by Wendelin Van Draanen
Series: Stand Alone
Published by Ember on May 13th 2003
Genres: Contemporary, Romance, Young Adult
Pages: 411
Format: eBook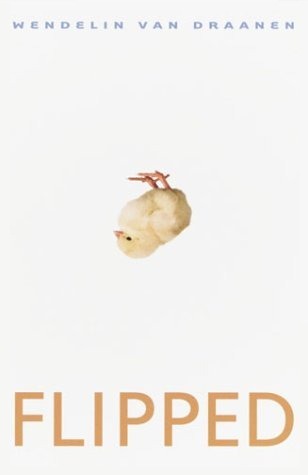 ---
MY INITIAL REACTION
---
When I picked the book, I was sure it would be a light and sweet read, and Oh BOY, I was absolutely right, but yes it did came out to be better than I had expected.
---
MY REACTION AFTER FINISHING THE BOOK
---
It was a heartwarming story with a very opposite pair of characters. Frankly the end was not really a "happily-ever-after" kind, nor was it bad, also not what I expected and I was foolishly turning the page just to check if I have missed a page. It was just incomplete that leads you to think of all the possibilities. Probably that is the reason I would say, this story, the characters, the events seem to be close to reality. No doubt, I wanted to read something in the end that is "AWW", but that would have been a cliché.
---
CHARACTERS
---
Julianna Bakers: Is a 11 year old girl, who is a strong willed passionate person, and who has had a huge crush on Bryce Loski since the day he came to her neighborhood, in 2nd grade. She belongs to a poor family, but a loving one. Her dad works very hard, and also paints in spare time. Her mother is a beautiful and sensible lady. Her 2 elder brothers are musicians who earn and to accomplish their dreams. Juli is a smart girl, who always gets A or A+. And who is madly after Bryce. Uncle David is a mentally unstable person and whom Juli's dad loves a lot.
Bryce Loski: Is a 11 year old boy, a bit coward and finds Juli a bit weird. Runs away from her all the time. His father Rick Loski is mean and weasely, his mother Patsy is a good woman, and his sister Lynetta is well, black eye-makeup girl. His granddad is the one who brings the change in Bryce's life (a good one).
---
UNIQUE FACTORS  AND STORY
---
Now, the best part of this book, and also the unique factor is:
This book isn't a set of sequential events. Here the each event is expressed in Juli's and Bryce's perspective, and my my, I should say there is a vast difference in each event. While Juli found Bryce awesome, Bryce found her as weird. While Juli thought he wanted to kiss her in 2nd grade, Bryce wanted to run away. While Bryce was hiding from her, Juli thought he was being shy.
When Juli was smitten by Bryce, he was trying to stay away from her. But in 8th grade, Juli realizes that Bryce blue eyes are as empty as he is, she is hurt and tries to avoid him. While at the same time, Bryce realizes, because of his grandfather Chet, that Juli's passion for things, and the realness of her family, is as beautiful as she is, he is flipped. So his chase for Juli begins.
---
BEAUTIFUL QUOTES IN BOOK
---
A very beautiful quote by Chet in this book is:
"Some of us get dipped in flat, some in satin, some in gloss…" He turned to me."But every once you will find someone who's iridescent, and when you do, nothing will ever compare." 
---
CONCLUSIONS
---
It was a sweet read, and I am definitely gonna watch the movie too which is based on this book. You would definitely enjoy, this is not a romantic novel though.
Happy Reading.